I started writing Across the Nightingale Floor with the four main characters in my head and the opening sentence in Takeo's voice. I was in Akiyoshidai International Arts Village in Yamaguchi Prefecture; it was a damp, humid afternoon in September. The light was pale and opalescent. Water trickled from the pools around the artists' residence, carp splashed and occasionally a kingfisher swooped above the pool. I was writing in a notebook with a black gel pen I'd bought in Himeji. I wrote 'My mother used to threaten to tear me limb from limb.' Later I changed this to 'into eight pieces'. I like to occasionally use Japanese idioms translated literally to give the feeling that the book is not written in English.
For many years before I had steeped myself in Japanese history and literature, reading widely, watching films, studying the language. Now I had several weeks alone in Japan in this idyllic place; the challenge was to see if I could bring to life what had lain within my mind all that time.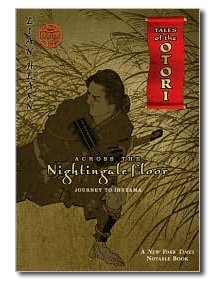 Slowly the world of the Otori began to evolve. I often went to Hagi, the old castle town of the Choshuu clan. I visited samurai houses and looked at artefacts in museums. I walked in the mountains behind the arts village, through the rice fields and by the river. Everywhere I tried to picture how my characters might have lived five hundred years ago. When people spoke to me I had to listen intently, using my ears as I had not done since I was a child. I heard everything but was more or less mute myself. So Takeo became.
I became addicted to gel pens and bought them by the handful. I carried my notebook with me and wrote on the road, on trains and planes and in waiting rooms. I was in Fukuoka when the entire ending of the book fell into place. I could hardly contain my excitement and emotion, yet actually to write it was painfully difficult.
In Japanese art and literature I am fascinated by the use of silence and asymmetry. I like the concept of ma: the space between that enables perception to occur. I wanted to see if I could use silence in writing. So the style is spare, elliptical and suggestive. What is not said is as important as what is stated.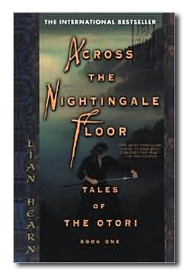 I am interested in feudalism. Whenever democracy and the rule of law break down human societies seem to revert to feudalism. I wanted to write a 'fantasy' set in a feudal society, but I wanted to write about real people whose emotions are all the more intense for being restrained by the codes of their society. There are no traditional villains in my story though there are antagonists. Iida Sadamu and Otori Shigeru are from the same class and background. Iida has been corrupted by power, whereas Shigeru is compassionate by nature but essentially they are the same. One is not a monster, the other not a super-hero. My characters seek power, they are flawed and they make mistakes, but they love life and grasp everything it has to offer.
I had intended to write only one book but long before the first book was finished it became obvious to me that the story I had been given would not be contained by it. It seemed to fall naturally into three parts but was written without a break as one overarching story. I wrote it all out longhand in four large notebooks between September 1999 and April 2001. From June 2001 to March 2002 I rewrote onto the computer. In the second half of this period Across the Nightingale Floor, which I finished in September 2001, was going through the editorial process: hardly a sentence was changed in any of its editions.
Across the Nightingale Floor blurb: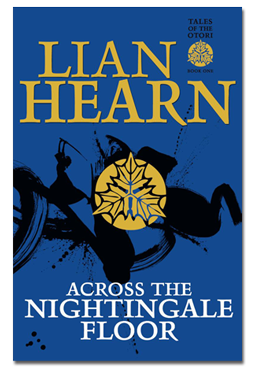 The first book in a stunning trilogy of historical/fantasy novels following Takeo, orphaned when a Warlord massacres his village.
A land of incomparable beauty torn by civil war. An ancient tradition undermined by spies and assassins. A society of rigid castes and codes subverted by love.
Takeo is raised among the Hidden, whose beliefs forbid them to kill. When his family fall victim to religious persecution at the hands of Lord Iida of the Dairyo clan, he is rescued and adopted by the warrior, Shigeru, of the Otori clan. Defeated ten years before by the Dairyo, many of the Otori still want revenge and look to Shigeru, the rightful heir, to lead them. However his uncles, the lords of the clan, would prefer to see him dead, and so would his greatest enemy, Iida.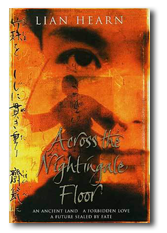 Fifteen year-old Kaede, a hostage of the Noguchi, allies of the Iida, has acquired the reputation of bringing death to any man who desires her. A marriage is arranged with Shigeru, ostensibly to bring the Otori into alliance, but really to mask his murder. Unknown to Takeo, his real father was a celebrated assassin and a member of the Tribe, an ancient network of families with extraordinary skills, including night vision, invisibility, creating a second self when fighting, and many methods of assassination. They sell their services as assassins and spies to the Warlords. Takeo has many of these skills. In addition he has supernatural hearing and skills as an artist, and both Shigeru and the Tribe want to use these skills for their own purposes.
Conflicted by split loyalties and tormented by his own divided nature, Takeo realises he must find his own way through this world of intrigue and violence, beauty and passion. He must make his own destiny. (hachette.com.au)