The beautiful calligraphy for the poems that open the first three books of the Tales of the Otori was drawn by Sugiyama Kazuko who passed away in Tokyo in February 2006.
I was introduced to Kazuko-san by a mutual friend Kimura Miyo. They had been classmates at Shizuoka University. I had come across the poem from the Manyoshu that opens Across The Nightingale Floor and found it extremely evocative. Miyo-san wrote out the original Japanese for me and then while talking to Kazuko-san about it suggested that she should write it for me. I was so delighted when the calligraphy arrived I asked if I might use it in the Australian and British editions of the book. Now it has appeared in over 18 countries round the world. It was one of the best gifts anyone had ever made me and I am deeply grateful. Kazuko-san herself was very happy about this and said it was proof that she had lived.
Kazuko-san worked for many years for the Encyclopaedia Britannica. Miyo-san wrote about her,
She was honest and sincere. She was shy and not aggressive. She was not a typical beauty. Her voice was attractive and had strength. Always she worked for others. Her work as an editor, especially as a proof reader symbolises how she lived.
I never met Kazuko-san, though we spoke once on the phone and had exchanged letters, hers written in her beautiful style, works of art in themselves. We had planned to meet in 2004 but ill health prevented her from coming to Shizuoka. And we had hoped to meet this year but now this will not happen. When I heard the news of her death I felt as if I had lost a close friend.
I hope when people read the pieces of calligraphy with which the Tales of the Otori begin that they will think of the artist who drew them, Sugiyama Kazuko.
Across the Nightingale Floor calligraphy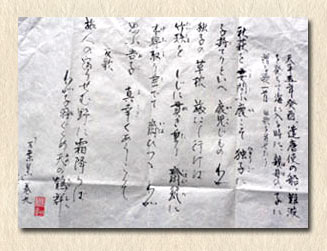 Grass for his Pillow calligraphy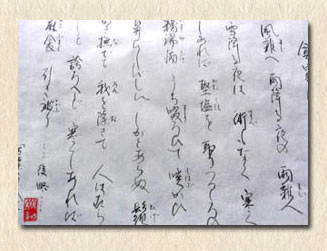 Brilliance of the Moon calligraphy